Benefits of Massage
Massage does more than just relax your body and mind — there are specific physiological changes that occur, and even more so when massage is utilized as a preventative therapy and not simply mere luxury.
The physical changes massage brings to your body can have a positive effect in many areas of your life.  Besides increasing relaxation and decreasing anxiety, massage lowers blood pressure, increases circulation, improves injury recovery, encourages deep sleep, and increases concentration.  Massage reduces fatigue and gives you more energy to handle stressful situations.
Evidence shows that the more massage you can allow yourself, the better you'll feel.  Research has found that massage can be of benefit even in small doses (15 minutes of chair massage or half-hour table session).  Also noted is that receiving massage on a more frequent basis is even more beneficial.
Massage is available during office hours by our massage therapist:
Deziree Gradwell, Monica Lapp and Robin Phelps
Click Here to Read Cancellation Policy

---
Massage Menu
All massages are customized to the client's needs with light, medium or deep tissue pressure. Massage is great for all ages including expecting mothers.
---
Therapeutic Message:
30 Minutes – $35
45 Minutes – $45
60 Minutes – $55
75 Minutes – $65
90 Minutes – $80
120 Minutes – $115
---
Hot Stone Massage:
60 Minutes – $70
90 Minutes – $90
120 Minutes – $120
* Please review contraindications
---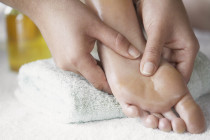 Reflexology:
Hand or Feet – 45 Minutes – $45
Hot Stone Reflexology –  60 Minutes – $60
Add a 30-minute Reflexology session to any 
---
Specialty Messages:
Sinus Massage (15 Minutes) – $15
Chair Massage
– 10 minutes – $10
– 15 minutes – $15
– 20 minutes – $20
---
 *Hot Stone Massage Contraindications:
Blood clots or prone to blood clots

Bruise easily

Cancer, chemotherapy or radiation treatments

Depressed immune system (lupus, HIV/AIDS, cancer, Epstein Barr, mononucleosis, fibromyalgia, chronic fatigue, etc.)

Diabetes

Fever

Heart problems

Heat sensitivity

High blood pressure

Inflammed skin conditions

Nerve trauma

Neuropathy

Open wounds or sores

Peripheral vascular disorder

Pregnancy

Recent surgery

Taking medications that have side effects to heat (please check with your doctor or pharmacist if you are not certain.)

Varicose veins
---
If you are new to massage therapy in our practice, please complete this form prior to your first visit.
 Massage Forms.pdf
Adobe Acrobat document [383.0 KB]